About me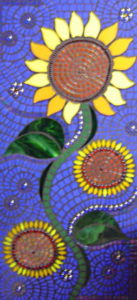 I am a fifth-generation New Zealander born in Blenheim and Whanganui-based for much of my life. I have always been creative, have a love for colour and texture and am absolutely mad about sunflowers!! (did you notice?)
Mosaic work began in 2002 in Whanganui, since then I have spent many hours sourcing inspiration from the internet, library and many books to find out more about this exciting art form. In the process I have discovered a passion for putting together broken pieces to make something beautiful. The fascination continues…
Visiting mosaic studios and art galleries for inspiration is top of the list when we travel and in my quest for more knowledge have attended workshops in New Zealand, Australia and have met many other enthusiastic mosaic artists. I have also studied online with Sharra Frank in Minneapolis, U.S.A.
Mosaic art challenges and inspires me to find new ways of developing ideas and I am always on the lookout for different materials to use, more ideas to try out. My mosaics include stained glass, vitreous glass tiles, ceramic tiles and glass pebbles as I love the way this combination enhances texture and light, especially as the sunlight moves during the day. I make my own glass fusions and continue the stories by re-using broken china or found objects.
My designs usually start with a small gem of an idea, which develop until a point is reached of interest, movement and a 'sense of life'. Many hours have been spent in the workshop designing and creating, with the most rewarding time when the completed picture emerges as the excess grout is cleared away.
Study toward a Diploma in Art and Creativity with the Wellington-based art school The Learning Connexion began in 2004. Through this extramural course I have been able to experiment with new ideas and to become more confident to express the beauty around me for others to enjoy.
After much encouragement from my family I began making mosaics to sell. As my design skills improved and more confidence gained I am now offer a service to create mosaics by commission. My original New Zealand art is ideal as a focal point for outside or used as an interior design feature.
Please contact me if you would like to purchase a mosaic readymade or commission a mosaic made to your choice of design.
My Mosaics have been shown at numerous exhibitions and galleries around New Zealand, at our National Comtemporary Mosaic Art Exhibitions and at the Mosaic Association of Australia and New Zealand Brisbane symposium.
In 2006 I began teaching mosaics in Wanganui and Taranaki, and in early 2008 set up a mosic teaching studio in town to run exciting mosaic classes and workshops with a studio set up ready to go!
Next time that you are in Wanganui you are very welcome to visit the studio and be inspired to see mosaics in a new way!
---
National NZ Mosaic exhibition awards:
2006 Exhibition at Mosaica, Auckland for Sunflower in Blue
2011 Exhibition at Waihi for Natural Flow
2015 Exhibition at Pataka, Porirua, Wellington for Stories from the heart
2018 Exhibition at Estuary Arts Centre, Orewa for Once upon a time...